Just the way fashion hems rise and fall and the color of the year switches from a zesty green to a provocative purple, trends in the gardening world are ever shifting. More formal designs with monochromatic flower beds might be tops for several years, only to be followed by wild grasses and leafy plantings the next.
So what's in this summer? We asked some top gardening experts to share which trends and plants are fresh and flourishing for yards, gardens, containers, window boxes, and beyond.
1. Textured plants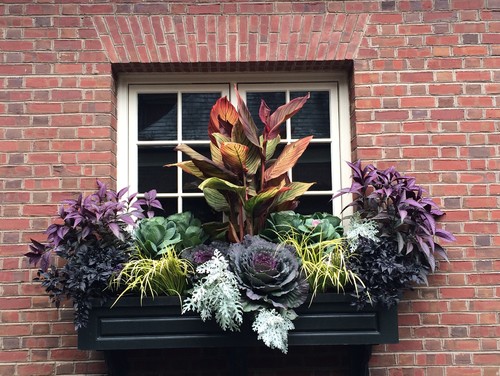 Photo by Second nature landscape design llc 
Plants you want to reach out and literally touch, such as soft, silvery dusty miller and ruffled ferns, are all the rage this season, say gardening pros.
"A combination of colors and textures that really wows people is your goal," notes Rachelle Kemp, a technical services specialist and franchise consultant at The Grounds Guys.
Think contrasting colors (orange lilies and purple verbena) and shapes (yucca and lantana) or true textures (juniper and lamb's ear). And don't forget the rule of pots and window boxes: Plant a thriller, a filler, and a spiller, which means one plant with height, another to fill in gaps, and a third that cascades over the edge.
2. Herb and flower mixes
Photo by Reynolds Landscape and Pools 
There's no rule that says you can't grow ornamental plants next to herbs, says Jared Peters, assistant store manager at Lowe's: "The gray-green foliage of rosemary makes an attractive backdrop for colorful annuals."
Herbs and flowers can be grown in all sizes of planters and flower beds, though be sure to place sun- and shade-lovers together.
You can also dry herbs at the end of the season or bring in your pots when the cold weather comes for fresh herbs all winter long, says Alice O'Laughlin, landscape designer at Rocco Fiore & Sons.
3. Coral-colored blooms
You can hop on another trend in the garden by looking to Pantone's color of the year, Living Coral.
"Coral is catching lots of attention this year," notes Cassy Aoyagi, president of FormLA Landscaping. Aoyagi usually sticks to blues and purples in her garden, but this season she's adding bright coral globemallow to stay current.
4. Shade plants
Peters has seen a big spike in demand for plants that thrive in shade. Partial sun, even just a couple of hours a day, can accommodate a wide variety of annual and perennial greenery, including potted Kimberly Queen, hosta, caladium (seen above), astilbe, foxglove, coral bells, and some types of hydrangeas.
Just remember that a shade garden can look a little somber without the sun's rays, and an overly green-brown color combo is dull. The fix: the electric lime-green and yellow shade plant coleus will add a much-needed punch of color.
5. Can't-kill-'em blooms
Photo by SURROUNDS Landscape Architecture + Construction 
Forgot to water the plants? Don't worry—there's a section in the greenhouse for shoppers just like you!
Kemp recommends easy-care English ivy, purple wandering Jew, marigolds, snapdragons, and any kind of mint.
SunPatiens are also tried and true, says Peters. "They deliver abundant color, have a mounding growth habit, and they grow well in partial or full shade," he says.
6. Xeriscaping
Xeri-whaa? Even if you've never heard of this term, you'll know a dry garden when you see it. Drought-tolerant plants like succulents, cacti, and sedum are all the rage in the Western U.S. where water is scarce.
"One squirt of mist a week is probably more than enough for these plants," notes O'Laughlin.
And while these dry guys may thrive in tough conditions, they still need attention at the start.
"Give them time to root in the soil and plan on watering new plants regularly during their first growth season," says Peters, who lists ornamental grasses among his favorites. "They tolerate drought like a champ and add height and soft texture against more rigid shrubs."
7. Vertical gardens
Photo by Shades Of Green Landscape Architecture 
This trend is popular for a couple of reasons. It saves space on a small deck, and it's a fun look to create and maintain.
Kemp opts for ivy, bromeliads, and ferns in her vertical gardens.
Isara Ongwiseth, lead designer at FormLA, likes ferns here, too, especially for walls that are protected from direct sun.
"This type of space mimics natural fern environments like steep canyons," she notes.
Just remember that when it comes to watering this wall, don't slack off.
"Each plant needs its own drink, so don't rely on the top plants watering the ones underneath," points out Peters.
Want to save money? O'Laughlin suggests hanging plants all over a wall in separate pots, rather than installing an integrated, vertical garden system.
The post 7 Gorgeous Gardening Trends to Try This Summer appeared first on Real Estate News & Insights | realtor.com®.
Article From: "Jennifer Kelly Geddes" Read full article