A lush green lawn full of vibrant plants and flowers can simultaneously be a source of delight and your worst nightmare. The constant mowing. Watering without getting dirty looks from your drought-conscious neighbors. Weeds—so many weeds. And why do things keep dying? You can keep pouring money into your patio, front yard, and other outdoor space, or give up and go with a scorched-earth approach. But those aren't your only options.
If you're fed up with traditional planting in your yard, it's time to consider a different tack: low-maintenance landscaping ideas that still look stunning. And the best part? You'll probably save some green (especially in a small yard) in the process.
1. Make your place drought-resistant
Photo by Houzz  
Sure, lush green lawns and shrubs can make any home look wow-worthy. But have you thought about how much work, water, and money these landscape ideas and backyard designs require?
Instead, consider xeriscaping—the practice of using drought-resistant plants, such as succulents and ornamental grasses.
Xeriscaping, which literally means "dry landscape," can reduce water use by 50% or more.
"You can still make a front yard, small backyard, or patio surround look lush, without being a glutton," says Kevin Guzior, a vice president at Pioneer Landscape Centers.
2. Pick regional landscape favorites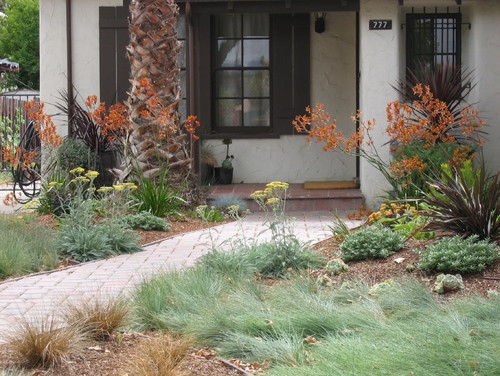 Photo by Curtis Horticulture Inc.
Planting flowers can be tricky—growing or not growing depends on the sun's position, the percentage of clay in your dirt and the long-term horoscope of each individual leaf. Impossible, we tell you.
Instead of trying—and maybe failing—with a trunk-load of costly, exotic flowers, consider planting landscapes with local natives for easy-maintenance ideas.
"Rather than struggling to keep your plants alive, pick local greenery that will naturally thrive in their environment," says Sid Sexton, owner of Sexton Lawn & Landscape in the Mobile, AL, area. "This idea will greatly reduce the time you spend watering and fertilizing."
Not sure how to track down the right plants? Sexton recommends doing a web search for "native plants in [your state]" or looking for local colleges with horticulture programs.
3. Use contrasting colors
Photo by Madero Doors & Hardware
Define different gardening spaces and draw the eye to key focal points in the yard by pairing dark and light colors. This idea doesn't require a ton of work—it will probably only take a couple of hours of labor.
Consider surrounding the walkway leading to your backyard seating area with colored mulch that contrasts with the grass. Or use light decorative rock to outline the dark dirt in your garden bed.
"These low-maintenance products and design ideas are easy on the upkeep and keep your front yard and patio area looking clean," Guzior says.
4. Go for an artificial landscape
Photo by Houzz
Fake or artificial grass is the quickest idea for a mower-free life. And there's no shame in cheating—artificial turf has come a long way in recent years, looking and feeling like the real thing.
"An artificial lawn can be just as beautiful as a naturally growing lawn with shrubs and flowerbeds," Guzior says.
Picture it: uninterrupted green—and no watering required! (An excellent design idea if you're living in a drought-prone landscape.)
5. Create space for living
Photo by Black Diamond Paver Stones & Landscape, Inc. 
Not all yard space needs to be dedicated to gardens and grass. Think about how you'd like to live outdoors: Are you a party host? Do you dream of reading books in a hammock? Would you like to put in a pool and fire pit at some point? Or add an outdoor kitchen and pergola? Design with that in mind.
"Put aside traditional landscaping ideas and create an outdoor living space, rather than settling on a lawn," Sexton says.
Just keep your plans simple if maintenance is a concern.
"Multiple levels, walkways, and water features can become obstacles when mowing, weeding, or updating the design in the future," Sexton advises.
6. Water your landscape less—and mulch more
Photo by Jeffrey Gordon Smith Landscape Architecture 
Here's an easy idea if you're tired of thinking of landscaping ideas: Water less. Yes, literally. Just water less.
"Overwatering is easy to do, and it brings pests, rot, and overgrowth," says Cassy Aoyagi, the president of FormLA Landscaping in Los Angeles.
Instead of watering frequently or using irrigation systems, Aoyagi recommends mulching more—and leaving grass clippings on the lawn—to retain moisture and simplify your Saturday gardening routine.
7. Rock out
Photo by Urban Botanics 
You know what doesn't need watering? Rocks. Lots and lots of rocks. Instead of grass, use decorative pebbles, and instead of rose bushes and shrubs, try boulders.
"Rocks are durable and long-lasting," Guzior says. "With this idea, you won't have to worry about them wearing out during harsh weather conditions, and rocks are a great way to avoid pests."
They're also ideal landscaping elements for less than savvy designers. Making rocks look bad is a challenge indeed—just place them wherever you think they look good, and you'll have a nice year-round view, plus enhanced curb appeal, from your patio or front yard.
The post The Grass Does Not Have to Be Greener: 7 Low-Maintenance Landscaping Ideas appeared first on Real Estate News & Insights | realtor.com®.
Article From: "Jamie Wiebe" Read full article