The grass is always greener in your neighbor's backyard, especially if she's got a ton of sunshine to help her plants and flowers thrive. But across the street at your house, it may be a different story altogether. The sun's angle might leave you with a lot less light for your beloved flora, leaving you in the dark (!) about what to plant.
Fortunately, landscape professionals know your pain and they have some savvy advice when it comes to shade gardens.
Just because your yard doesn't get much light doesn't mean it has to remain desolate, says Susan Brandt, the green thumb behind Blooming Secrets, an e-commerce gardening website. If you're faced with a surplus of shade, you can have a garden with color, texture, and variety.
To achieve it, take a look at the following tips for planting and watering—and then sit back and watch your garden grow.
What 'partial shade' means
Before you hit the plant store, get to know each shade category and then decide which apply to your yard.
"Partial shade" is the most common term you'll see on those plastic plant sticks at the nursery, and it means your flower beds get full sun for part of the day but then they're in the shade two to six hours during the hottest part of the day.
Dappled shade indicates that the sun passes through leaves and branches above, resulting in filtered light below. The darkest shade type is called "deep shade," areas that get little to no sunlight.
Track the seasons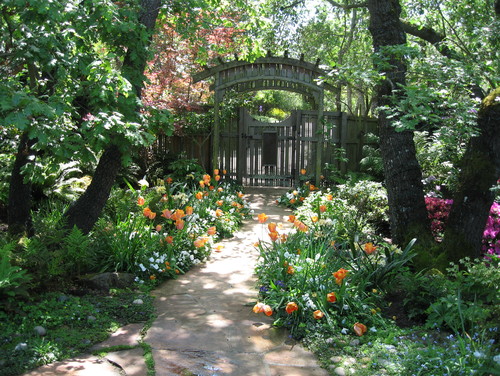 Take note of the season as you plan your shade garden. You might think spring bulbs are out of the question in partial shade, but they're fine to plant as long as they pop up before the full canopy of leaves is out overhead. You might also jot down what thrives from year to year so you learn which flowers do best in each area of your garden.
Gauge the source
Photo by Christine Karnofsky Landscape Design 
Where your shade comes from is as important as the type of shade you have, explains Isara Ongwiseth, lead designer at FormLA Landscaping.
If it's a tree that's throwing shadows on your lawn, certain types of foliage beneath it will make for great companions like ferns, he says, while others will have a hard time thriving.
"For example, what we plant under oaks varies from what might be planted under a conifer or in the shade cast by a building," he explains.
Water it right
Photo by Broadhurst + Associates 
Don't be lulled into thinking you can water less because your plants are in the cool shade. Insufficient water is a problem in a shade garden, notes Brandt, because nearby trees repel droplets away from the ground below. Trees, plants, and shrubs will all compete for the same precious water.
Too much water, however, is also an issue.
"Observe the grade of your shade garden to see where the runoff tends to concentrate, and provide an area drain to minimize the amount of water that'll sit there," says Ongwiseth.
Add color pops
Photo by Christine Karnofsky Landscape Design 
Shade gardens often look monochromatic with so much green on green, so strive to include as much color as you can. (Brandt likes astilbe and hydrangeas.)
Chris Lambton, landscaping expert and host of DIY Network's "Lawn and Order" and "Yard Crashers," suggests brightening a shade garden with color by way of variegated leaves such as hosta.
Or go for caladium, which brings stunning hues to darker garden spaces.
"This flowerless plant offers striking foliage and thrives in a shade garden," adds Jared Peters, assistant store manager at Lowe's in Charlotte, NC.
Invest in mulch
Photo by Bliss Garden Design, LLC 
Mulch, particularly the organic variety, adds nutrients to the soil and supplements the composition to help retain moisture. Ongwiseth recommends organic wood chip mulch, as other materials can compromise the dirt and water health.
"Some, like rubber mulches, will heat an area and increase fire danger," he cautions.
Create visual interest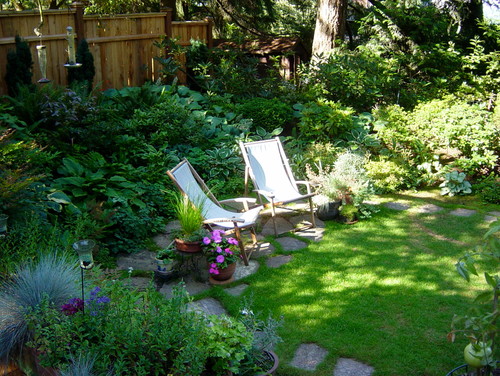 Combine shade garden plants the same way you might in a sun-filled flower bed, with a good variety of blooms, leaves, and heights (tall ones in the back, fillers and spillers in the middle, and ground covers or mosses below).
Playing up texture is another key component in a shade garden (slender grasses and delicate ferns are two good picks).
And when choosing shade plants, consider which ones might be beneficial for birds and insects.
"The California native pitcher sage flowers provide nectar for butterflies, and coffeeberry produces tasty fruit for birds," says Ongwiseth.
Include some shrubs
Photo by Amy Martin Landscape Design 
Shrubbery can define the garden perimeter and add height to an otherwise ho-hum design. Good shrub options for a shade garden include azalea, camellia, dogwood, and rhododendron.
The post These Shade-Loving Plants Will Flourish Without Tons of Sun appeared first on Real Estate News & Insights | realtor.com®.
Article From: "Jennifer Kelly Geddes" Read full article